Insano
Destroyer Bodybuilding Rag Top
Regular price
$46.00
$0.00
This product is a classic piece of old school bodybuilding, main legends of our sport used to wear it. Practical, tough and extremely comfortable. Features loose raglan style sleeves. This piece is indispensable in the wardrobe of a true bodybuilder! Due to its unique cut, this piece expands and highlights what you have the best, giving emphasis to trapeze, shoulders and chest. This ragtop will definitely make you even bigger!  Product that is pure style allied to practicality, synonymous of determination and discipline!
- Fabric Type: Medium Weight
- Piqué
---
Share this Product
---
More from this collection
Customer Reviews
Destroyer bodybuilding Rag Top
Excellent one of a kind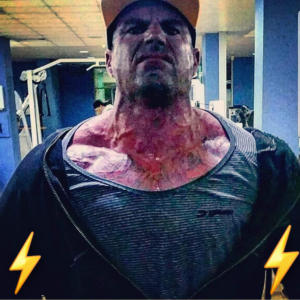 PJ
07/09/2021
Peter J.

Australia
Best Ragtop
Personally been on the hunt to replace my favourite light oversize Ragtop which had massive holes...Im located in Australia was watching you tube and saw GILLIA "GOLEM" YEFIMCHYK vlog with him wearing INSANO clothing ragtop....OMG!! Immediately ordered & product was even better than expected...massive scoop neck to let traps out with chest, loose & baggy, great designs & colours , fabrics very light but course texture knit which is perfect to be soaked in sweat which also breathes aswell (and quicker cloth washing process too)....Peronally LOVE" these shirts that much I almost own all designs & coloways. To be fair feedback only negative / Con is- "length" which is shorter not like a crop top (tho not far off) so a stringer underneath is possibly essential if your working lats or shoulder movements without a lifting belt on.